The string rail overpass is a key element of the uST transport and infrastructure complex. Thanks to its construction the electric vehicles on steel wheels do not face traffic jams and accidents, and the string track occupies a minimum ground area. There are several types of track structure. All of them are presented in EcoTechnoPark of Unitsky String Technologies Inc.
Each type of track structure has its own characteristics, but fundamentally a string rail track is a light, strong, durable and material-intensive transport overpass. If necessary, fiber-optic communication lines, power lines and product pipelines are placed in the track structure. Its design is based on prestressed string elements that are stretched between two massive anchor supports. In the spaces between them, the string rails are supported by light intermediate supports. A building combined with stations, shopping centers, residential and industrial premises can act as an anchor support. Wind and solar power plants can be placed on the supports as well.
On the EcoTechnoPark territory you can see five different string-rail overpasses: flexible, ultralight, rigid, semi-rigid and a specialized cargo. Each route is designed to test the operation of transport under different conditions. In addition, each of them has different tension parameters and differs in material consumption depending on the destination, the intensity of traffic, and the types of electric vehicles used. The traffic speed of the highways ranges from 50 to 150 km/h. Let's take a closer look at each of the types.
Flexible (sagging) - the most simple and functional design
A flexible track structure allows you to quickly create routes for organizing transport links with sparsely populated or remote areas. Due to its lightness, it is easier to build in areas with difficult terrain. This type of a string rail overpass is characterized by the simplest and most functional design. The minimum number of elements in its composition can combine several functions at once. For example, the housing simultaneously acts as a rail element. This makes the flexible track structure one of the most affordable solutions for transport communication. However, such a track is not the analogue of a cable car. After all, uST is a completely different technology that requires lower energy consumption for movement and offers high speed, reliability and durability.
Ultralight (coil-tubing) - an accessible and effective alternative to cable cars
This type of track differs from the others by its small carrying capacity and low cost. It uses flexible continuous coiled tubing pipes with high-strength wire inside as rails.
"The entire coiled tubing volume was almost 100 percent filled with string elements. These are very complex technological operations. We managed not only to stretch these elements there, but also added a special mixture in order to get a full-fledged rail with string elements inside and a rail head in the form of a pipe," – says Yury Kashchuk, head of the Transport Overpass Department.
Due to the absence of butt joints and sections, the installation process of the track is simplified. Lightweight and high-strength coiled tubing is a more affordable, reliable and efficient alternative to cable cars, which are expensive and difficult to manufacture.
Semi-rigid – withstands six-ton vehicles
The form of this type of track structure visually resembles the design of a suspension bridge, since all its main elements are combined. The track structure performs a wide range of tasks within the framework of the most relevant targeted projects. The following types of transport are being tested on this track: a uCont for transportation of 40-foot sea containers, a kind of train made up of two-rail uPods, a uTruck, and a light two-seater uBike.
After the UST Inc. engineers upgraded the semi-rigid track structure in 2018, it got the ability to operate heavier vehicles. Supports and rotating trusses were reinforced as well as additional string elements were installed – these are located not inside the rail, but outside and above it. Initially, the structure was supposed to operate vehicles up to 4 tons, now it can withstand more than 6 tons.
Rigid (truss) – the maximum possible speed
This track structure is intended for the movement of urban and high-speed transport. Its main feature is the ability to develop a much higher speed than when using other types of string rail overpass. The design of the track allows to ensure the movement of uPods at speeds up to 500 km/h (a promising development by UST Inc.). By the way, both suspended and mounted vehicles can simultaneously move along a rigid track structure.
Cargo - focus on strength
When designing the cargo track structure engineers focused on its strength – it is necessary to ensure a large volume of cargo transportation. The route presented in the ETP is looped and has two roundabouts. Anchor supports are one of the most complex structural elements of the cargo track structure. They have a dual purpose: supports perform the function of a power component and can be combined with the load bearing frame of various buildings and structures, such as loading and unloading terminals, production workshops, depots, and rooms for technological equipment.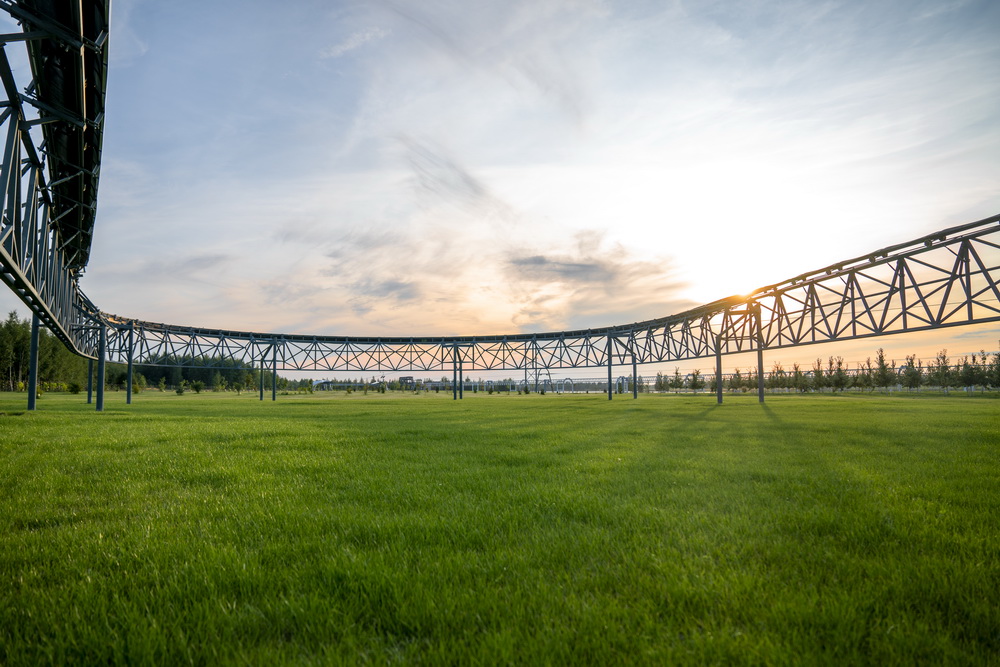 Transport and infrastructure complexes can be built even on sites with difficult terrain, and operated year-round in difficult climatic conditions. The transportation costs may be significantly lower compared to those by rail.
Please note that the main types of rolling stock (including both passenger and cargo) can move along all of the listed tracks. Also, any type of track structure incorporates advantages such as durability, smoothness of the track, low material consumption, and the possibility of using in extreme temperatures. Due to the small diameter of the string rail and its location above the ground, aerodynamics are optimized, transport speed is increased and a high level of safety of the transport complex in general is ensured.
1 July 2022